#StayHomeWith: Adra Kandil
We came up with the #StayHomeWith series to showcase inspirational Middle Eastern artists that possess a distinctive style. No one better embodies that description than Adra Kandil A.K.A @dear.nostalgia.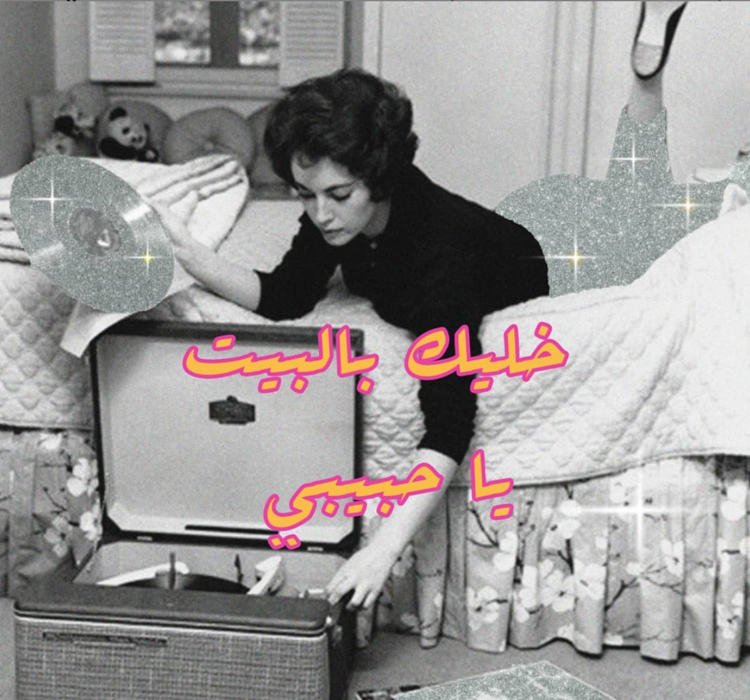 Image by@dear.nostalgia via Instagram
We conducted a virtual interview with Adra via email. She gave us some insight into her beginnings as a visual artist, as well as her inspirations. She also told us a bit about her routine, in light of COVID-19.
Middle East Art & Design: Tell us about yourself. Where are you from? Where did you grow up?
Adra Kandil: Hi, I'm Adra Kandil. I'm a female visual artist. Born and raised in Beirut, Lebanon. Born in the Autumn of 1993, my artistic inclination began on a trip to Barcelona where I received my degree in advertising and master's degree in innovation for design. 
MEAD: Can you tell us a bit about your work?
AK: I have a deep sentimentality towards 60's photography, and compositions that blur time and space. My work is a recollection of memories in the Middle East, telling my story. A juxtaposition of photographs, that express my relationship with home, explore my childhood, and my constant search for identity being brought up in a country of constant turmoil and conflict. I also address issues related to nationality, culture, and social and political change in the Middle East.
MEAD: When and how did you start exploring this style?
AK: It all started very haphazardly in 2017 while living in Barcelona. I would take photographs of lovers and friends and cut them out and place them in surreal locations, like outer space for fun. I also began collecting magazines, and cutting them up, creating compositions with bits and pieces. 
MEAD: How did you develop the skills needed for this specific style of visual arts?
AK: I studied branding and design at IED Barcelona, and it kickstarted my love for visual art. They gave me basic digital skills, and it was just enough to start creating. I then began advancing on my own, and learned a lot from my first year working at an advertising agency when I got back to Beirut.
MEAD: What inspires your work?
AK: Nostalgia. Emotions. The universe. Dreams. Photographs. Poems. and of course, other artists.
MEAD: What do you think is the current state of visual arts in Lebanon and more widely in the Middle East?
AK: It's still an emerging industry. There is a newfound appreciation for art and design and the understanding of its importance in shaping culture. I hope more and more artists and designers gain the value they deserve in our tiny home and vast region. Many creatives are valued through gaining "exposure" in our scene, which is disappointing. Creatives deserve more than just being seen.
MEAD: What do you think the future of visuals arts in Lebanon and more widely the Middle East is going to look like?
AK: I'm being hopeful. I think in the next few years design and art will be more and more important and appreciated in the Middle East, paving the way for the new generation to experiment, create and spread their message and current emotional state. I would love to see more art and design for social impact, rather than just creating beautiful things for likes.
MEAD: How are you coping with social distancing and quarantining?
AK: I'm essentially an introvert, so it's not drastically different than my day to day life. That being said, I do feel kinda stuck. Confined. I miss the sun, I miss long walks in Beirut discovering the city like a tourist. I miss the freedom of it all. I feel like my inspiration might run out, if I don't have any sensory experiences in the outside world to absorb the new. Here's to hoping it doesn't!
MEAD: What do your days look like now, in light of the restrictions?
AK: Coffee. Art. Breakfast. Art. Instagram. Instagram. Lunch. Art. Family time (From a distance). Instagram. Art. Replying to texts. Netflix. Quality time with my cats. Netflix. Bed.
MEAD: What advice would you give creatives, in light of everything going on in the world right now?
AK: Take it all in. Feel it all. Deeply.  The good, the bad, and the ugly, and make something meaningful. Grow from it.
MEAD: What advice would you give people who are hesitant in pursuing their creative talents?
AK: You've got nothing to lose. Give it a shot. Try and try and try again. Put yourself out there. Enjoy the process, have no fear of rejection because it will come, whether you like it or not. Try again. Most importantly enjoy the process.
#StayHomeWith is a series of videos and articles documenting the experience of artists across the Middle East, as they try to cope with the "new normal" and navigate the restrictions imposed by governments in response to the COVID-19 pandemic. Through this series, Middle East Art & Design hopes to create a virtual, unifying space for artists in the region and inspire a collective movement of creative expression.